Volunteer Trip To Akkar Area
Number of days: 6 Days/7 Nights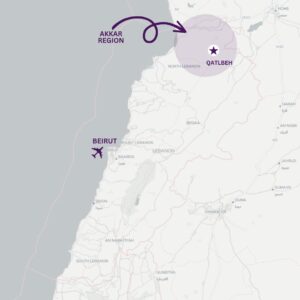 Dates : Set your dates freely (August till October)
Maximum capacity: 10
Departure Time

Set your dates freely (August till October)

Return Time

Set your dates freely (August till October)

Included

Private Customized Lebanon Trips

Not Included

Difficult

Upcoming Small Group Trips
Tour Plan
Day 1: Beirut – Munjez - Qatlabeh
Airport arrival. Pick up, Assistance and Meet up by Pia ABBOUD the tour leader.
Transfer to the Chambouk Farm in Qatlbeh (road of 3 hours) from Beirut. Street food lunch on the way. If time of arrival allows we will pass by the village of Munjez to take a tour around the landmarks, panoramic view of the border point to Syria in the north, visit the local museum and most importantly the millennial megaliths.
Arrival at the Farm. Meet the locals and welcome dinner.
Meals Included: Lunch + Dinner
Sleeping arrangements: Haykal Al Chambouk Farm
All meals included and helping Thomas in their preparation. Breakfast, lunch and dinner with Thomas.
Help in the farm work (building, agriculture, food processing, goat herding or guesthouse related daily work) – specifics to be set 1 month in advance.
Meals Included: Breakfast + Lunch + Diner
Sleeping arrangements: Haykal Al Chambouk Farm
All meals included and helping Thomas in their preparation. Breakfast, lunch and dinner with Thomas.
Help in the farm work (building, agriculture, food processing, goat herding or guesthouse related daily work) – specifics to be set 1 month in advance.
Meals Included: Breakfast + Lunch + Diner
Sleeping arrangements: Haykal Al Chambouk Farm
Day 4: Qatlabeh - Qoubaiyat
Helping Thomas in their preparation of their Breakfast and dinner.
Environmental related activity (cleanup, awareness raising workshop, discussions) with Hiba Haykal's daughter in charge of the local waste management company.
Tannour making man'oucheh for lunch after the environmental activity
Afternoon guided tour of the villages Endqet and Qoubaiyat.
Meals Included: Breakfast + Lunch + Diner
Sleeping arrangements: Haykal Al Chambouk Farm
All meals included and helping Thomas in their preparation. Breakfast, lunch and dinner with Thomas.
Help in the farm work (building, agriculture, food processing, goat herding or guesthouse related daily work) – specifics to be set 1 month in advance.
Meals Included: Breakfast + Lunch + Diner
Sleeping arrangements: Haykal Al Chambouk Farm
Day 6: Qatlabeh – Akkar Al Atika Highlands - Qammoua
Helping Thomas in their preparation of their Breakfast and dinner.
Guided hiking trip in the Wadi Al aswad in the Akkar Al Atika highlands with pic nic lunch.
Afternoon cleanup of the Qammoua plains with the assistance of Hiba daughter of Haykal.
Meals Included: Breakfast + Lunch + Diner
Sleeping arrangements: Haykal Al Chambouk Farm
Day 7: Qatlabeh – Byblos – Okaibeh - Beirut
Volunteer in preparation of breakfast with Thomas and have breakfast.
The day program with early departure will be depending on departure of flight time:
We will visit the old town and archeological site of Byblos + streetfood lunch + beach time in Okaibeh
Transfer to Beirut International Airport for departure flight.
Meals Included: Breakfast + Lunch
END OF TRIP
Environmental:
This is a 100% carbon free emission trip. Within this trip fee each participant is donating an amount equal to your flights CO2 emissions to plant a cedar tree at the Chambouk Farm grounds.
Local Community:
The travelers will be volunteering at the Haykal Al Chambouk family farm, located in the highlands of the district of Akkar in the village of Qatlabeh. This farm has an apple and pear orchard and makes all kinds of produce from them, such as brandy and juices. Most importantly, the farm keeps dozens of goats, from which they produce a variety of special dairy products. It also features a farm-to-table restaurant and a guesthouse. Main Issues:
Labor and Manpower: One of the primary challenges faced is a lack of sufficient manpower. With only Haykal, his son Thomas and family members managing and running the entire farm, its orchards, dairy operations, restaurant and guesthouse the workload can be overwhelming.
Skill diversification: while Haykal has deep understanding of farming and dairy production and construction and Thomas is managing the hospitality services, they might lack of fresh innovative ideas, marketing, supply chain management, sales and operations or simply assistance in their daily tasks to improve their visibility.
Needs:
Farm and guest table support: The farm could greatly benefit from the assistance of volunteers who can help with the various tasks, such as tending the orchards, managing the dairy, goat herding, helping in the kitchen, and assisting the guest services.
Infrastructure improvements: The farm constantly requires investments in infrastructure. This could involve building a guest studio, renovating facilities, upgrading equipment
Support in sharing environmental awareness for the local youth, reducing waste, recycling and cleaning.
Goals:
Sustainability: Establishing a sustainable model for the farm, where they efficiently utilize their resources, reduce waste, and maintain ecological balance.
Business growth: Expanding the reach of their farm produce and attracting more visitors to their restaurant and guesthouse.
Community Engagement: Strengthening their ties with the local community through environmental awareness, promoting agricultures, and rural tourism.
Community Service:
The travelers will be involved with the community through the farm support, assisting in agriculture, product processing, building and maintenance at the farm. Environmental awareness activities and clean up. Thomas and Haykal both speak and understand English and French fluently. First the tour leader and heritage management expert Pia ABBOUD will be present at all times along with Thomas who will be assisting in all Farm related support whilst his sister will assist all environmental related activities.
Prices:
700$/Student (For a maximum of 10)
For every 10 participants registered, 1 teacher can join free of charge.
Rate Includes:
Professional 24/7 ASSISTANCE of Pia ABBOUD: Tour Operator, Travel Expert and Heritage management specialist.
Full 7 days TOURS, ACTIVITIES & VISITS & site ENTRENCES. (referring to the program)
All Airport PICK UPS and TRANSFERS.
Private TRANSPORTATION with all fuel expenses throughout all the journey according to the program.
7 Nights ACCOMODATION at Farmville Barouk
MEALS: 6 Breakfasts + 7 Lunches + 6 Dinners
Local team and guides for the volunteer activities and visits
Rate Excludes:
International Flights
Optional Travel Insurance covering daily activities and tours (Ask for the price depending on the option you choose)
Any Alcoholic drinks during all mentioned meals
Laundry service
Personal expenses and souvenirs.
Optional activities not mentioned in the program.
Any other Item not included under "RATE INCLUDES"
PCR tests if needed
What valuable learning outcomes do travelers gain from this experiential trip? How does it enrich their educational journey:
Hands-On Learning: travelers get to engage in real-world activities such as agriculture, product processing, and environmental awareness. This hands-on experience goes beyond theoretical knowledge, allowing them to apply concepts learned in the classroom to practical situations. Cross-Cultural Communication: Interacting with the local community, who might have a different cultural background, language, and way of life, enhances travelers' cross-cultural communication skills. They learn to navigate diverse environments and effectively communicate across linguistic and cultural barriers. Sustainability Education: Through involvement in environmental awareness activities and sustainable farming practices, students gain a deeper understanding of the importance of environmental conservation and sustainable living. This knowledge equips them to make informed decisions about their own lifestyles and contribute to global sustainability efforts. Problem-Solving and Adaptability: In a dynamic and hands-on setting like a farm, students encounter real challenges that require problem-solving skills and adaptability. They learn to think on their feet, devise solutions, and adjust their approaches based on changing circumstances. Collaboration and Teamwork: Working alongside the local community members and fellow students fosters collaboration and teamwork. Students learn how to effectively contribute to a group effort, listen to others' perspectives, and collectively achieve shared goals. Entrepreneurial Thinking: Observing the operations of the farm-to-table restaurant and guesthouse exposes students to entrepreneurial aspects such as customer service, marketing, and innovation. They gain insights into how business ventures can be successfully integrated with agricultural practices. Personal Growth and Confidence: Successfully participating in various farm activities and community engagement initiatives boosts students' self-confidence and sense of accomplishment. They gain a sense of responsibility, independence, and the ability to step out of their comfort zones.
How can travelers best prepare for the trip, engage in pre-trip research, and make the most of the experience afterwards?
One month ahead of the trip we will send the students a brief about the region and farm in order to understand the context and familiarize themselves with the farm, the local community, and the cultural norms of the area. We still recommend for them to  make their own research the region's history, geography, and relevant current events to have a well-rounded understanding. During the trip the students must actively participate and engage in all activities, whether it's working on the farm, participating in environmental cleanups, or interacting with the local community. Embrace every opportunity to learn and contribute. It is recommended for the students to document their experience. They can keep a journal, take photos, or make short videos that will help remember reflect on the journey later and come up with insights gained during the trip or propositions for growth and improvement, which can help solidify their learning. It can help in developing valuable post trip discussions between the students sharing different perspectives.
 What specific Sustainable Development Goals (SDGs) will the travelers be working with during the trip? How does the project contribute to addressing these goals?
SDG 2: Zero Hunger: The agricultural activities on the farm, including orchards and dairy production, align with SDG 2 by promoting food security and improved nutrition. The project supports local food production, reducing the reliance on external sources. SDG 4: Quality Education - By engaging in research and experiential learning which is the main purpose of their visit. SDG 8: Decent Work and Economic Growth: Through its various initiatives, the project helps create employment opportunities and sustainable income streams for the local community. It supports decent work and economic growth by enhancing the viability of the farm-to-table restaurant, guesthouse, and related services. SDG 11: Sustainable Cities and Communities - Through their research and interactions, the student's aid in enhancing urban and rural areas, contributing to the development of sustainable communities. SDG 17: Partnerships for the Goals - The project's emphasis on cross-cultural exchange and knowledge sharing between us and the university student SDG 15: Life on Land: With a focus on agriculture, farming, and environmental conservation, the project directly aligns with SDG 15. It promotes the responsible use of land resources, biodiversity conservation, and ecosystem protection.
How are risks managed (for example, insects bites, getting hurt while using a tool, very hot/cold weather, breaking something, conflict between students and the local community…) and measures you plan to mitigate the risks.
Depending on the risk faced each will be treated accordingly. Knowing our experience and flexibility in working in risky situations in Lebanon all risks are taken into consideration knowing that:
In Lebanon there are no insect bites that are venomous like African or south American countries. In general insect bites in Lebanon can be either simple mosquito (like the ones in Europe) or minor insects. In case by any chance one of the students was a bit more sensible and a mosquito bite inflated he will be directly escorted to Emergency hospital by the tour leader no matter the time or place. Same for another medical emergency like getting hurt by using a tool, or any injury that may occur.
NB: Each student must have travel medical insurance that covers the trip and activities in Lebanon. If you wish to purchase it from us it is also possible to provide through local insurance partners. I can send you prices and options if you wish.
About the weather by choosing this specific proposal as advised it is best to come in spring or summer. In that case the transportation will be fully equipped for any weather situation with functioning Air condition. As for the Accommodation and activities they are located in the higher mountains in Lebanon. The farm is located at around 1500 m altitude. In case of extreme heat, fans will be provided in rooms. In case you will choose to come during winter times or colder seasons. Heating and extra blankets is guaranteed in the accommodation too.
In addition 1 month prior to the trip date I will send you a full list of WHAT YOU NEED TO KNOW BEFORE COMING that will include essentials to provide in the suitcase and recommendations on what to wear and bring that will be suitable for the weather. About the fieldworks and activities in case it is too hot or cold during a  day to do the work. We are very flexible in changing the day program at last minute and proposing something more convenient.
About breaking something for example. In that case it really depends on the value of what they break. But in general whatever they break they should pay for its fixing or its price in order for what is broken to be replaces.
In case of conflict between students and local community, Pia Abboud the tour operator will be there to make sure this does not happen having strong relationships with them. As the team is highly experienced in youth activities and team building and knows the community closely, working with them on a daily basis to make sure this is not a risk.
Registration policy:
The trip dates and number of participants shall be confirmed at least 45 days before arrival in order to coordinate logistics on site.
Registration will not be taken into consideration or confirmed unless you pay at least 50% DEPOSIT out of the total amount.
The remaining shall be transfered 1 month prior to the trip date
Your passport should be valid for at least 6 months after the departure date.
Cancellation policy:
In case of any local dangerous disruption in Lebanon or airport closures related to COVID measures the trip will be postponed to a later date or you can choose to cash back all the amount paid.
In other normal cases:
IF you cancel your reservation, 2 months before your scheduled arrival date, The full amount you paid will be refunded, minus the bank charges.
IF cancellation occurs one month before your scheduled trip date, Half of the amount you paid will be refunded. (Subject to case by case)
IF cancellation occurs Starting and less than 15 Days before your scheduled arrival dates the full amount will be unrefunded. (Subject to case by case)
NB:
*
Sometimes, due to reasons beyond our control, slight modifications to the program may occur.
For more Information and Registration:
Email: info@discoverybeyondborders.com Calls, SMSs and WhatsApp:
+33 6 68 27 22 16 OR +961 3 00 76 86
Facebook:
Discovery Beyond Borders
Instagram:
discoverybeyondborders