Volunteer Trip To Bekaa Area
Number of days: 6 Days/7 Nights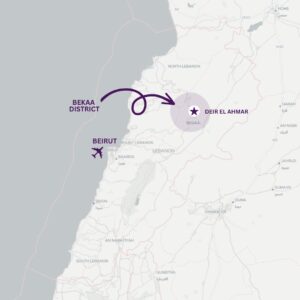 Dates : Set your dates freely (April to June or October to December)
Maximum capacity: 10
Departure Time

Set your dates freely (April to June or October to December)

Return Time

Set your dates freely (April to June or October to December)

Included

Private Customized Lebanon Trips

Not Included

Difficult

Upcoming Small Group Trips
Tour Plan
Day 1: Beirut – Deir El Ahmar
Airport arrival. Pick up, Assistance and Meet up by Pia ABBOUD the tour leader.
Street food lunch on the way.
Afternoon meet the DMO's team leader Toni and visit of the Saydet Bechwat Sanctuary and the biggest rosary of the world.
Welcome dinner at local's home.
Meals Included: Lunch + Dinner
Sleeping arrangements: Homestay  in Deir el Ahmar
Day 2: Deir El Ahmar – Barqa - Ainata
Breakfast and dinner provided at lodging homestay. Students are required to help in the preparation.
Explore the vineyards of Ainata and the region's wine history.
Lunch in the camp of Mamlaket el Lezzab.
Visit the Juniper nursery and plantation of Juniper trees.
Meals Included: Breakfast + Lunch + Diner
Sleeping arrangements: Homestay  in Deir el Ahmar
Day 3: Deir El Ahmar - Ainata
Breakfast and dinner provided at lodging homestay. Students are required to help in the preparation.
Guided hike on the "Road to the Spring" including execution of new trails and yearly maintenance experience with pic nic lunch.
Afternoon visit of Saydet El Borj the historic church and Jupiter temple.
Meals Included: Breakfast + Lunch + Diner
Sleeping arrangements: Homestay  in Deir el Ahmar
Day 4: Deir El Ahmar - Btedhi
Breakfast and dinner provided at lodging homestay. Students are required to help in the preparation.
Morning agricultural experience picking seasonal fruits or vegetables with at local family farm.
Lunch at DEA restaurant.
Afternoon visit to the village of Btedhi, its church and roman roots.
Climbing the Qasr El Banat hill by 4X4 vehicles to enjoy the sunset time and explore the famous roman temple which overlooks the Bekaa valley.
Meals Included: Breakfast + Lunch + Diner
Sleeping arrangements: Homestay  in Deir el Ahmar
Day 5: Deir El Ahmar – Baalbek
Breakfast provided at lodging homestay. Students are required to help in the preparation.
Morning visit of the legendary Heliopolis archeological site in Baalbek, the mercury temple overlooking the city, the Habla rock world largest carved rock, and the Sayida Khawla Mosque.
Lunch traditional Siha in local restaurant
Afternoon visit of the mosaic workshop of the Artist Diab Imad and craft your own mosaic.
At night a special outdoor campfire dinner will be prepared for the group with traditional food prepared (the help of the students for set up will be required and appreciated)
Meals Included: Breakfast + Lunch + Diner
Sleeping arrangements: Homestay  in Deir el Ahmar
Breakfast provided at lodging homestay. Students are required to help in the preparation.
Learn the Mouneh know how and techniques and help local ladies with the traditional food processing preperations.
Lunch at the local factory of Mouneh.
Free afternoon
Goodbye dinner prepared for the group.
Meals Included: Breakfast + Lunch + Diner
Sleeping arrangements: Homestay  in Deir el Ahmar
Day 7: Deir El Ahmar – Cedars – Bcharreh - Beirut
Breakfast provided at lodging homestay. Students are required to help in the preparation.
Depending of time of flight departure the schedule of the day will be as follows:
Morning departure for a roadtrip to visit the Cedars forest
Visit the Old Mar Licha Monastery
Homemade lunch at ward's café and free time in the village of Hadath El Jebbeh.
Transfer to Beirut Rafic Al Hariri International Airport.
Meals Included: Breakfast + Lunch
END OF TRIP
Environmental:
This is a 100% carbon free emission trip. Within this trip fee each participant is donating an amount equal to your flights CO2 emissions to adopt and plant Juniper trees in the highlands of Ainata.
Local Community:
The travelers will be volunteering with DMO (Destination Management Organization) Deir El Ahmar located in north west Bekaa region in Lebanon. The students will be joining the local community of Deir El Ahmar, a town situated in the northwest Bekaa region of Lebanon. The community is deeply rooted in rural Lebanese traditions and cultural practices. The town is known for its historical significance, as its name is believed to originate from "Deir Ohmor," meaning the Monastery of the Lord's Brother. The people of Deir El Ahmar take pride in preserving their heritage, including traditional cooking and cultural celebrations. Main Issues, Needs, and Goals: Economic Challenges: Like many rural communities, Deir El Ahmar might face economic challenges such as limited employment opportunities, especially for the younger generation. The community may be looking for ways to boost local businesses and create sustainable economic growth. Infrastructure and Services: Access to modern infrastructure, healthcare, education, and other essential services might be a concern. The community could be working towards improving these facilities for the well-being of its residents. Cultural Preservation: While the community holds strong to its traditions, there might be ongoing efforts to preserve and pass down cultural practices, rituals, and traditional crafts to younger generations. Ongoing Projects and Timeline: Economic Development Initiatives: The DMO is initiating projects to promote local tourism and economic activities. This could involve collaborating with local artisans, farmers, and entrepreneurs to create market opportunities and attract visitors to the town. Cultural Festivals and Events: The DMO supports in organizing cultural festivals and events that showcase traditional music, dance, food, and crafts. These events could aim to not only preserve cultural heritage but also attract tourists and contribute to the local economy. Education and Skills Development: Efforts could be focused on providing educational and skill-building opportunities for youth. Workshops and training sessions might be organized to equip young people with the skills needed for various industries. Sustainable Agriculture Initiatives: Projects related to sustainable farming practices, organic agriculture, and promoting local produce are also on the agenda. Collaborations and Partnerships: The DMO is also establishing partnerships with NGOs, governmental agencies, and other stakeholders to further its goals. Collaborations that help leverage resources and expertise for the community's benefit.
Community Service:
Travelers will get involved with the local community in various ways, such as volunteering, participating in community events, or collaborating on projects. Experimenting with traditional food values could involve cultural exchanges, workshops, or events that promote the sharing of culinary heritage and tradition Toni Saad the DMO director will personally assist the volunteers acting as local guide and moderator. Other members staff of the DMO will also in facilitating the exchange. They all speak English fluently . The leader and heritage management expert Pia ABBOUD will be present at all times along with the DMO members too .
Prices:
840$/Student (For a minimum of 15 and maximum of 20 students)
For every 10 participants registered, 1 teacher can join free of charge.
Rate Includes:
Professional 24/7 ASSISTANCE of Pia ABBOUD: Tour Operator, Travel Expert and Heritage management specialist.
Full 7 days TOURS, ACTIVITIES & VISITS & site ENTRENCES. (referring to the program)
All Airport PICK UPS and TRANSFERS.
Private TRANSPORTATION with all fuel expenses throughout all the journey according to the program.
7 Nights ACCOMODATION at Farmville Barouk
MEALS: 6 Breakfasts + 7 Lunches + 6 Dinners
Local team and guides for the volunteer activities and visits
Rate Excludes:
International Flights
Optional Travel Insurance covering daily activities and tours (Ask for the price depending on the option you choose)
Any Alcoholic drinks during all mentioned meals
Laundry service
Personal expenses and souvenirs.
Optional activities not mentioned in the program.
Any other Item not included under "RATE INCLUDES"
PCR tests if needed
What valuable learning outcomes do travelers gain from this experiential trip? How does it enrich their educational journey?
Cultural Sensitivity and Global Understanding: Through direct interaction with the local community, students develop cultural sensitivity, empathy, and a broader perspective of the world. They learn to appreciate diversity and gain a deeper understanding of the challenges and opportunities faced by the community. Collaborative and Teamwork Skills: Working alongside community members and fellow students during the trip fosters teamwork and collaboration. Students learn to communicate effectively, share responsibilities, and contribute their unique skills to achieve common goals. Civic Engagement and Social Responsibility: By actively participating in the community projects, students will learn about social issues, the importance of giving back, and the role of responsible citizenship in creating positive change. Adaptability and Resilience: Experiencing a new environment, possibly with different customs and challenges, helps students develop adaptability and resilience. They learn to navigate unfamiliar situations and become more flexible in their thinking and actions.
What specific Sustainable Development Goals (SDGs) will the travelers be working with during the trip? How does the project contribute to addressing these goals?
SDG 4: Quality Education:If the students engage in educational workshops and skill-sharing activities, they directly contribute to enhancing the educational opportunities within the community. SDG 8: Decent Work and Economic Growth: By collaborating on projects that promote local tourism, business development, and sustainable agriculture, the students support efforts to achieve decent work and economic growth in the community. SDG 17: Partnerships for the Goals: Collaborating with the local community, NGOs, and other stakeholders demonstrates the importance of partnerships for achieving sustainable development.
How are risks managed (for example, insects bites, getting hurt while using a tool, very hot/cold weather, breaking something, conflict between students and the local community…) and measures you plan to mitigate the risks.
Depending on the risk faced each will be treated accordingly. Knowing our experience and flexibility in working in risky situations in Lebanon all risks are taken into consideration knowing that:
In Lebanon there are no insect bites that are venomous like African or south American countries. In general insect bites in Lebanon can be either simple mosquito (like the ones in Europe) or minor insects. In case by any chance one of the students was a bit more sensible and a mosquito bite inflated he will be directly escorted to Emergency hospital by the tour leader no matter the time or place. Same for another medical emergency like getting hurt by using a tool, or any injury that may occur.
NB: Each student must have travel medical insurance that covers the trip and activities in Lebanon. If you wish to purchase it from us it is also possible to provide through local insurance partners. I can send you prices and options if you wish.
About the weather by choosing this specific proposal as advised it is best to come in spring or autumn. In that case the transportation will be fully equipped for any weather situation with functioning Air condition. As for the Accommodation and activities, In case of extreme heat, fans will be provided in rooms. In case you will choose to come during winter times or colder seasons. Heating and extra blankets are guaranteed in the accommodation too.
In addition 1 month prior to the trip date I will send you a full list of WHAT YOU NEED TO KNOW BEFORE COMING that will include essentials to provide in the suitcase and recommendations on what to wear and bring that will be suitable for the weather. About the fieldworks and activities in case it is too hot or cold during a  day to do the work. We are very flexible in changing the day program at last minute and proposing something more convenient.
About breaking something for example. In that case it really depends on the value of what they break. But in general whatever they break they should pay for its fixing or its price in order for what is broken to be replaces.
In case of conflict between students and local community, Pia Abboud the tour operator and the local DMO team in charge will be there to make sure this does not happen. As the team is highly experienced in youth activities and team building and knows the community closely, working with them on a daily basis to make sure this is not a risk.
Registration policy:
The trip dates and number of participants shall be confirmed at least 45 days before arrival in order to coordinate logistics on site.
Registration will not be taken into consideration or confirmed unless you pay at least 50% DEPOSIT out of the total amount.
The remaining shall be transfered 1 month prior to the trip date
Your passport should be valid for at least 6 months after the departure date.
Cancellation policy:
In case of any local dangerous disruption in Lebanon or airport closures related to COVID measures the trip will be postponed to a later date or you can choose to cash back all the amount paid.
In other normal cases:
IF you cancel your reservation, 2 months before your scheduled arrival date, The full amount you paid will be refunded, minus the bank charges.
IF cancellation occurs one month before your scheduled trip date, Half of the amount you paid will be refunded. (Subject to case by case)
IF cancellation occurs Starting and less than 15 Days before your scheduled arrival dates the full amount will be unrefunded. (Subject to case by case)
NB:
*
Sometimes, due to reasons beyond our control, slight modifications to the program may occur.
For more Information and Registration:
Email: info@discoverybeyondborders.com Calls, SMSs and WhatsApp:
+33 6 68 27 22 16 OR +961 3 00 76 86
Facebook:
Discovery Beyond Borders
Instagram:
discoverybeyondborders