Volunteer Trip To Shouf Area
Number of days: 6 Days/7 Nights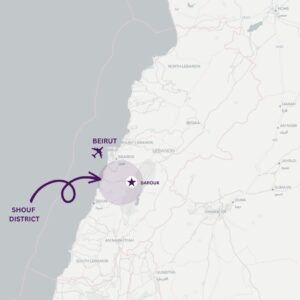 Dates : Set your dates freely (From May to October)
Maximum capacity: 15
Departure Time

Set your dates freely (From May to October)

Return Time

Set your dates freely (From May to October)

Included

Private Customized Lebanon Trips

Not Included

Difficult

Upcoming Small Group Trips
Tour Plan
Airport arrival. Pick up, Assistance and Meet up by Pia ABBOUD the tour leader.
Depending on their arrival time if it is at 3 pm or before that we will have a street food lunch and alternative walking tour of Beirut for the duration of 3 to 4 hours with sunset at the Raouche rock.
Transfer to the guesthouse Farmville Barouk for welcome dinner and exchange with the Cezar's Project team.
Meals Included: Lunch + Dinner
Sleeping arrangements: Farmville Barouk
Day 2: Barouk – Ain Zhalta
Volunteer in preparation of breakfast with local lady and breakfast.
Hiking in the Shouf Biosphere reserve including cleaning and maintenance of trails. (simple pic nic lunch provided)
Ride for a sunset point overlooking the shouf region and bekaa from the other side in Ain Zhalta.
Helping local lady in preparation of dinner and bonfire for the guests and dinner.
Meals Included: Breakfast + Lunch + Diner
Sleeping arrangements: Farmville Barouk
Volunteer in preparation of breakfast with local lady and breakfast
Helping set up breakfast or lunch for guests, animal feeding, helping with guesthouse shores and activities (based on the bookings at the guesthouse we might exchange this day with another one)
Lunch at the guesthouse.
Afternoon locally guided visit of the authentic village of Deir el Qamar and the Beiteddine palace.
Helping local lady in preparation of dinner and bonfire for the guests and dinner.
Meals Included: Breakfast + Lunch + Diner
Sleeping arrangements: Farmville Barouk
Day 4: Barouk – Maasser El Chouf
Volunteer in preparation of breakfast with local lady and breakfast
Helping in the field, with animals, cleaning and planting at the Maasser El Chouf Donkey farm.
Quick lunch and guided tour of Maasser El Chouf with visit to a traditional tile making workshop where each person will make their own time and will be able to take it with them as a souvenir.
Helping local lady in preparation of dinner and bonfire for the guests and dinner.
Meals Included: Breakfast + Lunch + Diner
Sleeping arrangements: Farmville Barouk
Day 5: Barouk – Warhanieh
Volunteer in preparation of breakfast with local lady and breakfast.
Helping local farmer in seasonal agricultural activity (fruit or vegetable picking)
Lunch sandwiches Taouk on the go.
Visit Atelier Assaf a family owned sculpture Eco museum.
Helping local lady in preparation of dinner and bonfire for the guests and dinner.
Meals Included: Breakfast + Lunch + Diner
Sleeping arrangements: Farmville Barouk
Volunteer in preparation of breakfast with local lady and breakfast.
Hiking trails cleanup or river cleaning in neighboring villages with pic nic lunch.
Afternoon trip to Baadaran to discover the hidden gems of Baadaran and the nawl weaving know how, then meeting with a OUD instrument maker and listen to his music.
Helping local lady in preparation of dinner and bonfire for the guests and dinner.
Meals Included: Breakfast + Lunch + Diner
Sleeping arrangements: Farmville Barouk
Day 7: Barouk – Jiyyeh - Beirut
Volunteer in preparation of breakfast with local lady and breakfast.
Beach day in one of the sandy beaches of Jiyyeh. (We will organize this last day and beach time according to flights schedules).
Transfer to Beirut International Airport for departure flight.
Meals Included: Breakfast
END OF TRIP
Environmental:
This is a 100% carbon free emission trip. Within this trip fee each participant is donating an amount equal to your flights CO2 emissions to plant a cedar tree in the Farmville grounds.
Local Community:
The group will be volunteering within the scope of Cezar's Project a social enterprise located in Barouk in the Shouf region of Mount Lebanon aimed at developing standard rural tourism operations and coordinating rural initiatives in a youthful and innovative spirit. Aspiring to set an example in Lebanon for preserving local traditions , sustaining local talent and providing youth and locals with job opportunities aligned with the region's ecosystem and resources. The local community in the Shouf region is predominantly rural, with a strong sense of community and connection to their environment. The residents are often engaged in agriculture, including olive and fruit farming. Their main issues include limited access to education, healthcare, and economic opportunities. The community seeks to improve infrastructure, such as roads and utilities, and enhance educational facilities. Their goals are to achieve sustainable development, preserve their cultural heritage, and empower youth. Ongoing projects involve the establishment of community centers for education and skill development, as well as initiatives to promote eco-tourism and agro-based entrepreneurship. Additionally, there are efforts to support local artisans and craftspeople to create economic opportunities within the community. Volunteers will be meeting the projects' team who are locals from the nearby villages, they will meet farmers, workers, artisans, service providers.. By bringing volunteers from abroad to work in the Shouf region, your project can contribute to the community's goals and ongoing projects, addressing their needs and supporting their initiatives for sustainable development . 70% out of the trip cost is directly generating income to the local communities working in the tourism sector, from accommodations to services, activities and small businesses.
Community Service:
The social interaction between the local people in the area and the volunteers from diverse backgrounds, will contribute to a unique cultural exchange that allows shared improvements and inspires fresh ideas. This continuous exchange of knowledge will have a lasting impact, nurturing cultural, social, and economic growth. The sustainable contribution of the project lies in its capacity to introduce innovative ideas and developments that enhance local services and generate innovative solutions tailored to the needs of different individuals. Through this volunteering opportunity, the traveler will gain an understanding of the community in Shouf villages specifically its natural and cultural resources. It equips them with essential skills to formulate strategies, develop ideas, and create social and economic impacts focused on preserving natural resources. During the trip, the volunteer group will explore environmental sites, engage in cultural interactions, learn about the local economic situation from residents, and gain insights from local initiatives, NGOs, and businesses. They also become familiar with the area's biodiversity and witness how it's impacting in the creation of sustainable tourism projects. This enriching experience contributes significantly by fostering a holistic perspective and practical skills related to community, conservation, strategy building, and sustainable development.
Prices:
770$/Person (For a minimum of 10 and a maximum of 15)
For every 10 participants registered, 1 team leader can join free.
Rate Includes:
Professional 24/7 ASSISTANCE of Pia ABBOUD: Tour Operator, Travel Expert and Heritage management specialist.
Full 7 days TOURS, ACTIVITIES & VISITS & site ENTRENCES. (referring to the program)
All Airport PICK UPS and TRANSFERS.
Private TRANSPORTATION with all fuel expenses throughout all the journey according to the program.
7 Nights ACCOMODATION at Farmville Barouk
MEALS: 6 Breakfasts + 6 Lunches + 6 Dinners
Local team and guides for the volunteer activities and visits
Rate Excludes:
International Flights
Optional Travel Insurance covering daily activities and tours (Ask for the price depending on the option you choose)
Any Alcoholic drinks during all mentioned meals
Laundry service
Personal expenses and souvenirs.
Optional activities not mentioned in the program.
Any other Item not included under "RATE INCLUDES"
PCR tests if needed
How can travelers best prepare for the trip, engage in pre-trip research, and make the most of the experience afterwards?
To prepare for the trip, traveler should conduct a pre-trip research about the area they'll be visiting. They can formulate questions and hypotheses that they aim to validate or explore during the trip. Organizing their research with clear headings will guide their efforts. During the visit, they can gather data and observations to address their research goals. Unexpected outcomes can enhance their study, and recording personal opinions will add depth. Afterward, travelers should share their findings with the with the community, showcasing what they explored and suggesting potential improvements based on their unique perspectives.
How will travelers be able to keep a relationship with the community/stay engaged with them after they have come back home to keep track of the project's and the local community's evolution?
Students can maintain a strong relationship with the community by sharing their research outcomes and findings. They should also remain engaged with the local community's ongoing development process. To ensure sustained involvement, fostering reciprocal visits is valuable. Enabling members of the local community to travel and experience a similar exchange in another country can enhance understanding and collaboration. Additionally, organizing exchange visits with new volunteers from their own country, who are working on similar projects, will facilitate the continuous sharing of fresh insights and outcomes.
What specific Sustainable Development Goals (SDGs) will the travelers be working with during the trip? How does the project contribute to addressing these goals?
SDG 4: Quality Education - By engaging in research and experiential learning which is the main purpose of their visit.
SDG 11: Sustainable Cities and Communities - Through their research and interactions, the student's aid in enhancing urban and rural areas, contributing to the development of sustainable communities.
SDG 17: Partnerships for the Goals - The project's emphasis on cross-cultural exchange and knowledge sharing between us and the university student
How are risks managed (for example, insects bites, getting hurt while using a tool, very hot/cold weather, breaking something, conflict between students and the local community…) and measures you plan to mitigate the risks.
Depending on the risk faced each will be treated accordingly. Knowing our experience and flexibility in working in risky situations in Lebanon all risks are taken into consideration knowing that:
In Lebanon there are no insect bites that are venomous like African or south American countries. In general insect bites in Lebanon can be either simple mosquito (like the ones in Europe) or minor insects. In case by any chance one of the students was a bit more sensible and a mosquito bite inflated he will be directly escorted to Emergency hospital by the tour leader no matter the time or place. Same for another medical emergency like getting hurt by using a tool, or any injury that may occur.
NB: Each student must have travel medical insurance that covers the trip and activities in Lebanon. If you wish to purchase it from us it is also possible to provide through local insurance partners. I can send you prices and options if you wish.
About the weather by choosing this specific proposal as advised it is best to come in spring or summer. In that case the transportation will be fully equipped for any weather situation with functioning Air condition. As for the Accommodation and activities they are located in the higher mountains in Lebanon. Farmville Barouk is located at around 1500 m altitude. In case of extreme heat, fans will be provided in rooms. In case you will choose to come during winter times or colder seasons. Heating is guaranteed in the accommodation too.
In addition 1 month prior to the trip date I will send you a full list of WHAT YOU NEED TO KNOW BEFORE COMING that will include essentials to provide in the suitcase and recommendations on what to wear and bring that will be suitable for the weather. About the fieldworks and activities in case it is too hot or cold during a  day to do the work. We are very flexible in changing the day program at last minute and proposing something more convenient.
About breaking something for example. In that case it really depends on the value of what they break. But in general whatever they break they should pay for its fixing or its price in order for what is broken to be replaces.
In case of conflict between students and local community, Pia Abboud the tour operator and the local team in charge at the Cezar's project will be there to make sure this does not happen. As the team is highly experienced in youth activities and team building and knows the community closely, working with them on a daily basis to make sure this is not a risk.
Registration policy:
The trip dates and number of participants shall be confirmed at least 45 days before arrival in order to coordinate logistics on site.
Registration will not be taken into consideration or confirmed unless you pay at least 50% DEPOSIT out of the total amount.
The remaining shall be transfered 1 month prior to the trip date
Your passport should be valid for at least 6 months after the departure date.
Cancellation policy:
In case of any local dangerous disruption in Lebanon or airport closures related to COVID measures the trip will be postponed to a later date or you can choose to cash back all the amount paid.
In other normal cases:
IF you cancel your reservation, 2 months before your scheduled arrival date, The full amount you paid will be refunded, minus the bank charges.
IF cancellation occurs one month before your scheduled trip date, Half of the amount you paid will be refunded. (Subject to case by case)
IF cancellation occurs Starting and less than 15 Days before your scheduled arrival dates the full amount will be unrefunded. (Subject to case by case)
NB:
*
Sometimes, due to reasons beyond our control, slight modifications to the program may occur.
For more Information and Registration:
Email: info@discoverybeyondborders.com Calls, SMSs and WhatsApp:
+33 6 68 27 22 16 OR +961 3 00 76 86
Facebook:
Discovery Beyond Borders
Instagram:
discoverybeyondborders